Oct. 27, 2023
Celebrating National Care Leavers Week 2023: graduation speech from a Settle Graduate
Isatu Momoh, a Settle graduate, speaks about her experience of the Settle programme and her achievements at our first collective graduation event.
Recently, Settle hosted our first collective Graduation event for young people who have completed our programme. Usually, young people and their Programme Officer have a graduation lunch together to close out their time on the programme, but to mark National Care Leavers Week 2023, we decided to host our first collective graduation event.
Alongside awarding certificates and shouting out the achievements of our young people, we created a space where young people could share a few words about their achievements if they wanted to. Isatu shared her story, and has kindly permitted us to publish it here on the blog:
Isatu's speech:
I have lots to say, but I am conscious of time.
I want to start by saying a massive thank you to Nick for his help and support. Over the past couple of months, I've found that my sessions with Nick helped me to slowly put my life in order.
From things as little as discussions around boundaries and how to say no, to more serious issues such as council tax – which I absolutely hated! Nick supported me and helped me in the areas that I needed. He advocated for me during the annoying calls about council tax as well as also listening to my needs.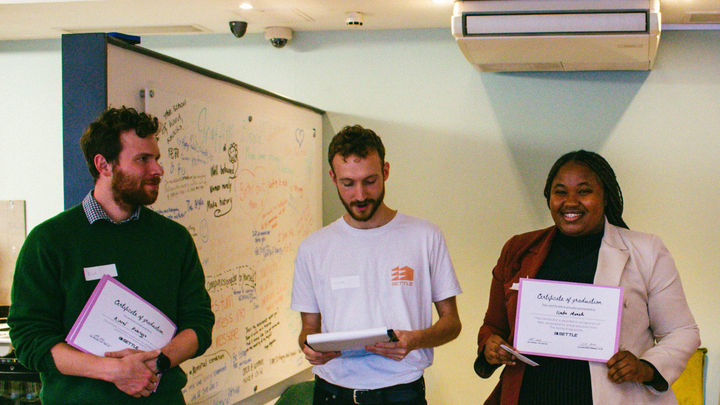 Thanks to Settle, I was able to have access to therapy. This meant a lot for me because not only was I able to access therapy, but I was able to have my old therapist. This was a major highlight for me; as someone who is a care leaver, this meant I had someone who knew my story already. This further highlights the fact that Settle cares and they are truly dedicated to offering support and making change.
Perhaps one of my greatest highlights was that Nick helped me greatly with budgeting. I planned a fundraising project for careleavers and orphans in Ghana. When I shared my idea with Nick, he was thrilled and excited for me. I shared that as I was struggling financially I wasn't sure how to save towards the trip and balance my time appropriately.
We planned a monthly budget, allowing me to save money for the trip. I also worked on my time management and was able to work on the relevant documents that needed to be done. Nick acted as a support system and a form of accountability for me. As a result, I was able to raise over £2,500 and was able to travel to Ghana and donate money to the care leavers network there.
I started the Civil Service Care Leavers Internship last year, and not having a background in tech or an understanding of the Civil Service, I struggled greatly with imposter syndrome. I doubted my abilities and capabilities and did not think that I would be able to finish the placement.
Again, Nick listened and sent me a few documents to help me with my desires. Nick also connected me with an old colleague of his who works as a Personal Advisor in a council. I got the opportunity to speak with her and in that conversation, she suggested just as Nick had been saying, that I should hold on and give myself a few months. Even if that wasn't what I initially wanted to hear, I felt as though that conversation encouraged and reassured me to continue trying.
I took her advice, travelled to Ghana and came back ready for a fresh start. Upon my return, I took the initiative to lead a team collaboration event on resilience, which was a huge success. It was so successful that after the collaboration, my manager continually sang praises about how proud she was of me.
The greatest highlight was that my manager sent an email out to someone speaking very highly of me. Not only did I stick it out through the internship, but I am now also on my way to being made permanent.
I would never in a million years think I'd be made permanent but not only that - to be happy working and finding success.
To conclude I am grateful for the instrumental role that Settle has played in my life during this tough time of transition. Thank you Nick for being a great listener and support system.